Page 1.
Last updated
2021-06-22
Year-Month-Day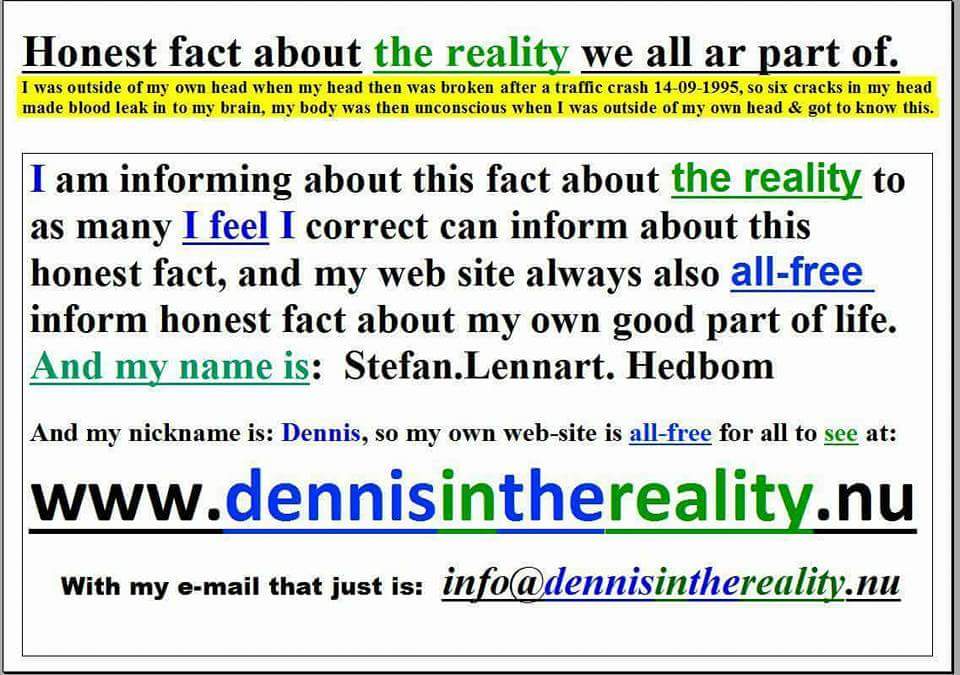 This Page 1.
Page 4. = From my life so far.
Hello to all
that have come here.
My name is:
Stefan.Lennart. Hedbom
With the nickname Dennis.
Both "here above" under the picture of my poster is text in blue, and on the bottom of this page in white, is where all can go now and click to go to the other pages here in my quick-web. Ok
And I allow all that want to copy and print out this poster, to do that.
Because that is also why I now have this here in top of this page, so that you then correct can have this as open as possible so most people you know also can get to see it, please do not put this poster in any other then legal places to put it on or in normal post board's. Ore what I think is best for all to do is to put it on your own property, maybe in one of your own windows or possibly on your own door outside where you know many can se it. Ok
Because if you put my poster page where it is not allowed to be put, then I know you can get penalty fee for damaging other people's property or on companies propaties or advertising or...what ever that it is on that you then may cover.
So please do not do that, do only do this as correct as possible for all legally. Ok
Or if this other owner allowe you, then you must have proof of where you ar allowed to put this poster, then I think it is OK. I think a recording of when you had your conversation could prove that of when you got allowed, or a signed dokument from the owner of what you ar allowed to do. I think the dokument signed from the owner with facts about what you ar allowed to do is safest to have, when you try to do this as correct you can do this for all safely. Ok
_________________________________________
This is just my Quick-web now, that I have tried to make all by my self, as correct I feel I know I can do this correct for all.
And I have started this quick-web
at: www.nunames.nu <LINKED>
______________________________________________________
First someone from This nunames.nu support have told me that all their customers get commission from them if they get them more customers, so I thought I will get my commission from them from all people that have started their website from my website.
But I have not yet gotten any money from nunames.nu, I will inform about that as soon I get any money as commission, and then also say that here so all know.
Also with as I have asked for the receipt, from when and what? Ok
Please tell nunames.nu support to do this correct for all and also me, because I also need my commission money. Ok
Because after this traffic crash 1995 I have been living on my sick leave from work for many years now, so I do now really want to get my commission money, that also nunames.nu have told me that all their customers should get if they get them more new customers. So why have I not yet got any commission money, I wonder?
I guess all can ask them, so all can get to know, or am I wrong?
___________________________________________________
Well first of all I feel that I have to say that I have never ever had any choice from who's earlier life's soul energy that my own soul energy have been created by, it is just how the reality always is, and it is just automatically evening itself out with one soul.
So the reality is automatically proving itself to all with this single soul, so all can get to know about this incredible fact about the reality that we all ar part of, when the time is correct for all to get to know about this incredible fact about the reality that we all here in the reality ar part of.
All I can do, is to do as correct I can for all, ore not.
So I feel I know I will as long I exist do as correct I feel is possibly correct for me to do, for the best for all here in the reality to exist correct with all.